According to the statistics of KTI, transaction volume in the Finnish property market reached EUR 6.3 bn in 2019. The volume decreased by 34% from the previous year. However, the number of transactions remained high, since KTI recorded almost 300 transactions that exceeded one million euro in 2019 (approx. 350 in 2018 and approx. 300 also in 2017). The decrease in volumes was mostly caused by the lack of exceptionally large transactions, that were recorded in the two previous years.The largest individual transaction carried out in 2019 was the acquisition of the EUR 249 million share of shopping centre Jumbo by pension insurer Elo in the first quarter. Also several large office property and residential portfolio transactions were recorded last year. The largest residential portfolio transaction was completed by Starwood Capital Group, who, together with the Finnish Avara, acquired almost 2,200 dwellings from pension insurer Elo and OP Group's insurance companies. Due to high investor demand, the transaction prices of the best properties continued to increase especially in the Helsinki metropolitan area. Quarterly volumes amounted to EUR 1.3 –1.9 billion. The volume of the last quarter of 2019 amounted to EUR 1.5 bn, which was as much as 60% lower than exceptionally high volume in Q4/2018.
Office properties most traded property type
Office properties were the most traded property type for the third consecutive year in 2019, accounting for 37% of the total volume (EUR 2.3 billion). Residential portfolios accounted for 25% of the total volume, followed by retail (17%) and care properties (10%). The share of retail properties was the lowest in the past 15 years, while care properties have increased their share in recent years. In early 2020, the largest ever care property transaction in Finland will be carried out, as Belgian investor Aedifica is about to complete the public tender offer to purchase all shares in the listed Finnish care property investor Hoivatilat Plc.
Share of foreign investors decreased
The share of foreign investors decreased from the past two years, and amounted to 45% of the total volume in 2019 (65% in 2018). However, the Finnish property investment market remains attractive, and several new foreign property investors entered Finland last year. In total, foreign investors acquired properties worth EUR 2.8 bn, while their sales totalled EUR 1.5 bn in 2019. Of the domestic property investor groups, the property funds were the most active buyers, accounting for 29% of the total volume.
Transactions volume in the Finnish property market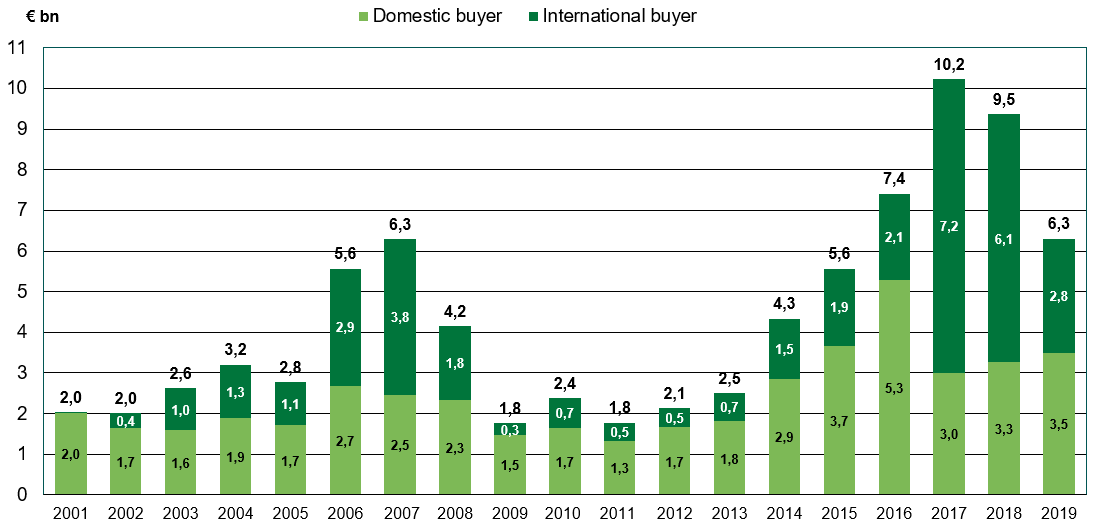 Source: KTI
More detailed information and analysis on property transactions in Finland can be found in the KTI Transactions information service. For more information, contact: Mikko Soutamo (mikko.soutamo(a)kti.fi, +358 50 548 0480) or Olli-Pekka Virkola (olli-pekka.virkola(a)kti.fi, +358 50 330 5287). The guidelines of KTI's transaction statistics can be found here.