Total return on the Finnish directly owned property investments was 6.2% in 2016. Income return decreased from previous year and stood at 5.6%. Residential was the best performing main property sector for the ninth consecutive year.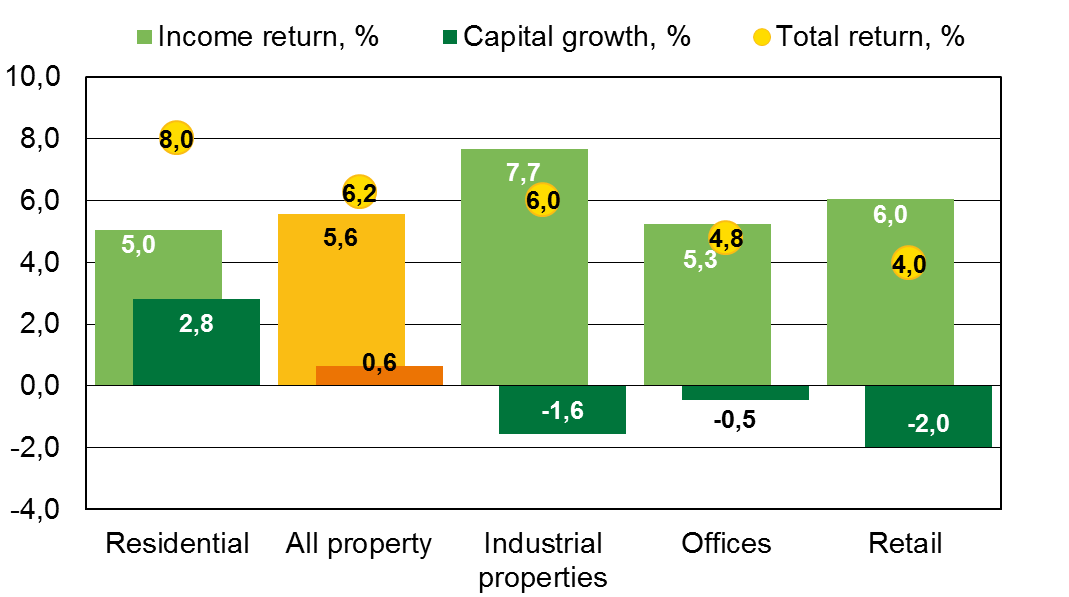 Returns by sector in 2016
Residential continued strong performance
In 2016, residential investments delivered a total return of 8.0%. Income return stood at 5.0% and property values increased 2.8%. The average income return decreased clearly from previous year mostly due to the increasing amount of new residential properties in the Helsinki Metropolitan Area. Capital growth remained positive and was supported by growing rental values, decreasing valuation yields and strong investment demand.
For years residential properties have performed better than commercial properties. Demand for rental housing is strong compared to offices that are suffering from vacancy. In the retail sector the supply and uncertainty are increasing. The interest for residential investments is increasing and residential became the largest property sector in the Finnish property investment market in 2016. The proportion of residential properties increased to 35% of the KTI Index.
Income return for offices decreased in all regions
During 2016 vacancy for offices in the Helsinki metropolitan area increased further. Also operating costs increased and consequently income return decreased to 5.3%. Due to depreciating capital values the total return amounted to only 4.8% for office properties. The weight of the Helsinki metropolitan area has still increased in the professional property investors' office property portfolios.
Capital values for retail properties decreased outside Helsinki metropolitan area
Retail and shopping center investment market is clearly split regionally. In the Helsinki metropolitan area rents continue increasing, occupation rate remains strong and valuation yields decrease. Total return in the Helsinki metropolitan area stood at 7.8% and was supported by stable income return and positive capital growth.
Outside Helsinki metropolitan area the returns suffer from increasing vacancy and decreasing rents. Capital values depreciated ca. five percent in larger cities and nearly nine percent in smaller cities.
Total return for all retail properties was 4.0% of which income return stood at 6.0% and capital growth at -2.0%.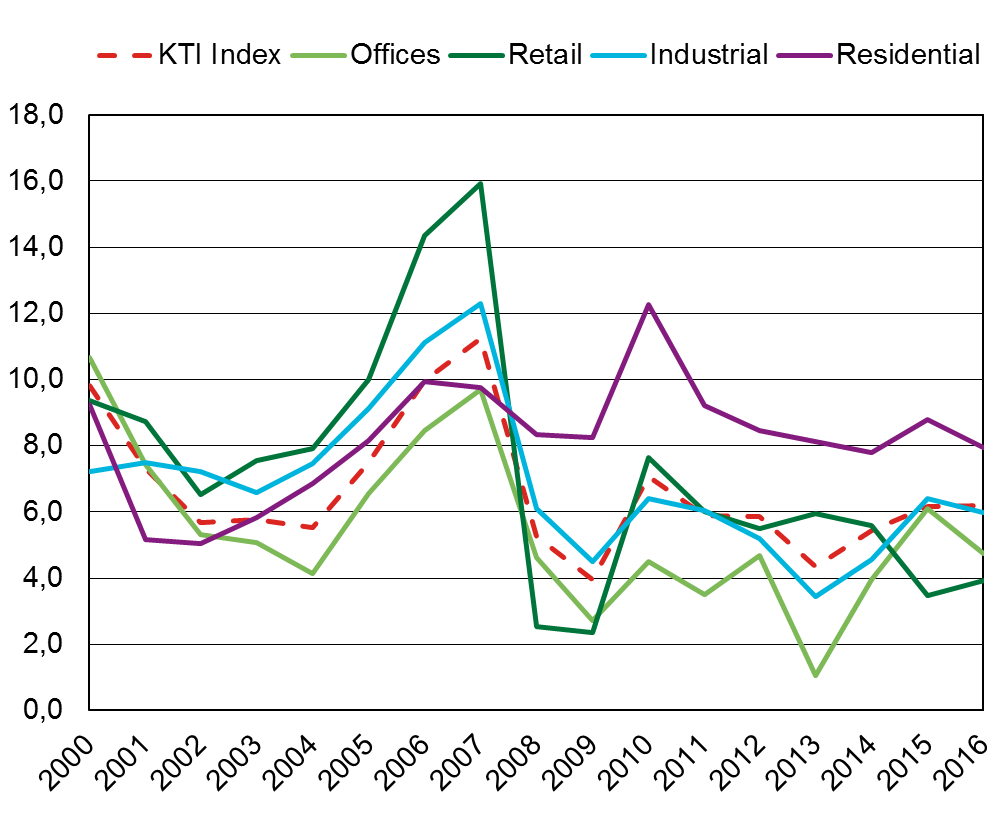 Total return by property sector 2000–2016
For further information please contact:
Pia Louekoski, tel. +358 400 95963
Hanna Kaleva, tel. +358 40 555 5269
---
KTI Finland is an independent research organisation and service company providing information and research services for the Finnish real estate industry. KTI Finland has been calculating the KTI Index since 1998. 26 property investors contribute to the KTI Index. The database currently comprises some €24.9 billion worth of properties, thus covering about 43% of the total property investment market in Finland.
The participating investors are: Aberdeen Asset Management, Avara, Barings Real Estate Advisers, CBRE Global Investors, Citycon, Elo, eQ Asset Management, Etera, Exilion Management, Genesta, Hemsö, HYY Real Estate, Ilmarinen, Julius Tallberg-Kiinteistöt, Keva, LocalTapiola, Northern Horizon, OP, Renor, Sampo Group, SATO, Tarkala-Rettig Kiinteistökehitys, Turku Technology Properties, Varma, Veritas and VVO.