Property investment activity decreased in the latter half of 2022 in the Finnish property market due to the increased economic uncertainty. The transaction volume of the first half of 2022 amounted to almost €4.5 billion, which was the highest H1 volume ever. In Q3 and Q4, transaction volumes reached €1.5 billion and €1.2 billion, respectively. The total transaction volume of 2022 amounted to €7.2 billion, and the volume increased by 2% from the previous year. The largest transaction of the year was the acquisition of the Stockmann department store property in the Helsinki CBD by Keva for €400 million in the first quarter of the year.
Residential and public use properties most traded property sectors
Residential properties were the most traded property sector for the second consecutive year, accounting for 29% of the total volume (€2.1 billion) in 2022. Public use properties accounted for 21% of the total volume, and they reached a new record annual volume of more than €1.5 billion. Sector's transaction volume was boosted by several transactions, where municipalities sold their service properties to property investors. Transaction activity of hospital and other healthcare properties in particular was high in 2022.
Despite of a few large office property transactions in Helsinki, the office property transaction volume decreased to €1.2 billion, which was the lowest annual volume since 2014. Also the volumes of retail and industrial property transactions amounted to approximately €1.2 billion. All these three commercial property sectors accounted for some 16% of the total volume in 2022.
Share of foreign investors decreased slightly compared to 2021
Foreign investors' activity decreased towards the end of 2022, but, however, their share of the total volume in the latter half of the year increased markedly compared to the beginning of the year. In total, foreign investors accounted for 48% of the total volume in 2022 (€3.5 billion), while their share was more than 50% in both 2020 and 2021. Some 45% of foreign investors' investments were originated from other Nordic countries. Five new foreign property investors entered the Finnish market during the year. The most significant newcomer was the Dutch Orange Capital Partners, which acquired over 4,000 rental apartments in two large portfolio transactions, together with Singaporean GIC. Of the domestic property investor groups, property funds were, again, the most active buyers, accounting for 31% of the total volume.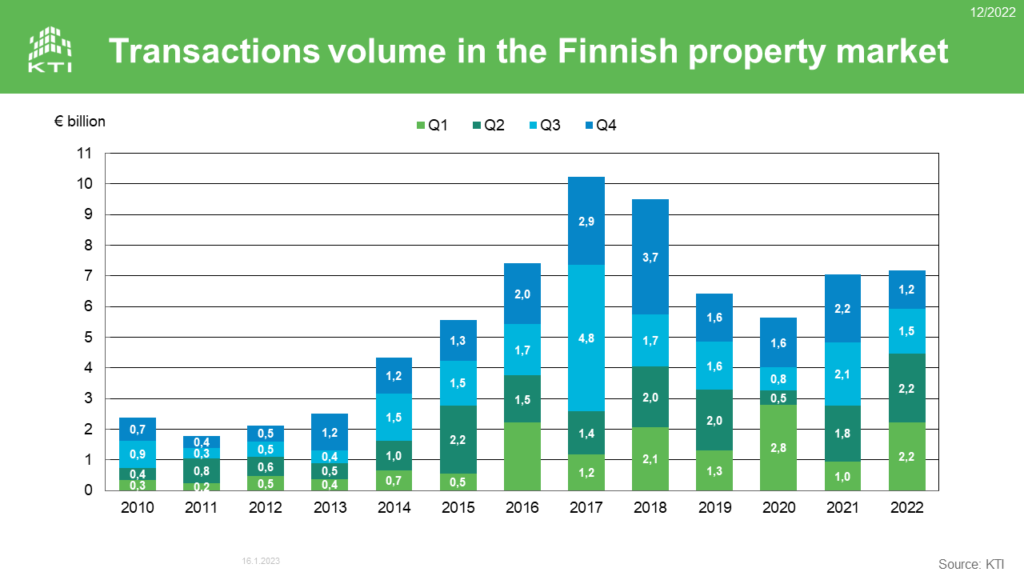 More detailed information and analysis on property transactions in Finland can be found in the KTI Transactions information service. For more information, contact: Mikko Soutamo (mikko.soutamo(a)kti.fi, +358 50 548 0480) or Olli-Pekka Virkola (olli-pekka.virkola(a)kti.fi, +358 50 330 5287).